BUY THE BOOK
Price:
$19.99 + $3.50 Shipping & Handling (Paperback - Avaiable Now)
$9.99 (Ebook - Available Now)

ISBN: 978-1-4675-3251-8

SKORE MEDIA GROUP, LLC
2552 Prince Edward Dr
Henderson, Nevada 89052

All rights reserved. No part of this book may be reproduced, stored in a retrieval system or transmitted in any form or by any means, electronic, mechanical, photocopying, recording whatsoever, without written permission from the copyright holder.
"History has always been written by winners, so the time has come to write our own history. If we do not write our own history, someone else will write his own biased version of our history"
-Pablo Betancourt

Copyright 2012 by Pablo Betancourt

PDF Digital eBook:
Softcover Book: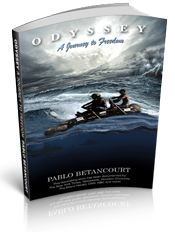 No flash player!
It looks like you don't have flash player installed. Click here to go to Macromedia download page.