The Odyssey Book
"Born just months before Castro's Cuban revolution of 1959, Pablo Betancourt hailed from an impoverished Havana slum. Hard work and an indomitable spirit propelled him to win an academic scholarship from the University of Havana which would have lead to an enviable career in international trade at the Cuban Foreign Trade Ministry. But freedom's clarion call beckoned Pablo to embark upon a desperate journey at sea to reach the Florida shores. Set sail in a raft supported by two truck tire inner tubes Pablo braved the blistering sun, shark-infested waters, dehydration and a merciless sea, for five days and five harrowing nights. His literal odyssey at sea, and metaphysical journey through the travails of life, is a testament to the power of the human spirit and its relentless pursuit of freedom." - TAKASHI BUFFORD, Screenwriter (Set it Off, House Party 3, Booty Call, The Tiger Woods Story)
"History has always been written by winners, so the time has come to write our own history. If we do not write our own history, someone else will write his own biased version of our history."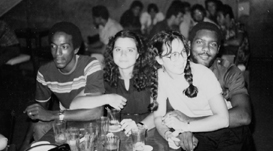 Pablo & Ana, Carmen & Alberto at "Cafe Cantante Bar" in Havana.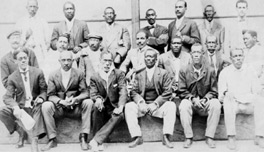 Picture of some of the members of the "Black Independent Party".
This fascinating story has been documented by The New York Times, Miami Herald, Houston Chronicles, Newsweek Magazine, EFE, CNN, NBC and more.

PDF Digital eBook:
Softcover Book: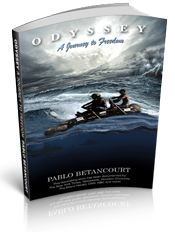 No flash player!
It looks like you don't have flash player installed. Click here to go to Macromedia download page.